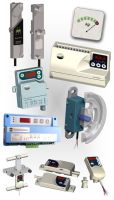 Load Weighing
Load measuring technology for almost all applications
Elevator installations, lifting platforms, cranes, oil pressure measurement, bending of beams, level measurement for silos,
Loading of bridges, closing forces on doors, loading of conveyor belts, control of feed systems, agricultural solutions for agriculture u.v.m.
Choosing the right system:
Where is measured? Ropes, cable suspension, beams, machine frame, hydraulics,
What is evaluated? Loads as total value (e.g., under the cabin, the total load of the area)
or single measurement (e.g., measuring individual ropes to evaluate the rope tension).
How is evaluated? Analog (voltage / current), potential-free (relay) or digital (interface / CanOpen)
Are special solutions required? Measurement in the EX protection area, redundant monitoring, installation in the IP housing,etc.
You do not find anything suitable in the shop?
Take a look at the download area or call us, we are happy to help
---
---
---